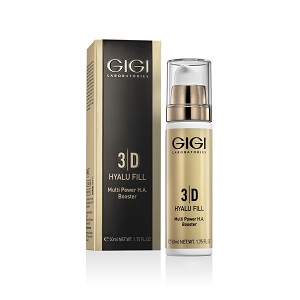 3D HYALU FILL MULTI POWER H.A BOOSTER
Meet your skin's new best friend – GIGI's innovative 3D Booster that fills and firms the facial skin, repairs damage and creates a stretching effect of the upper skin layer.
In daily use, the cream helps to smooth the surface of the skin significantly by creating a moisture reservoir and encouraging the creation of elastic fibers, restoring skin volume and wrinkle filling, maintaining the natural moisture level in the facial skin, increasing hyaluronic acid production in the dermis layer of the skin, encouraging elastin production to delay signs of aging, firming the dermis layer and creating a stretching effect instantly.
Wash your face first and then apply the cream to the entire face and neck area until fully absorbed.
The cream can also be used as a serum.
For normal or blended skin or during the summer, the cream should be the only product that is applied to the skin. In case of dry or dehydrated skin, or during the winter season, the cream can be used as a serum and a moisturizer can be applied on top of it as needed. During the day, sunscreen should also be applied.
The cream contains a slow release, which acts as a conductor for the deep skin layers, a hyaluronic acid that is released along with the long-lasting active complex and also contains peptides and natural ingredients.